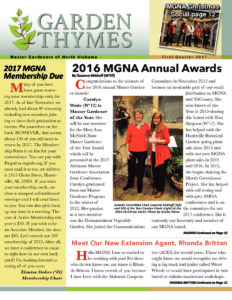 Extra!  Extra!  –  Here is the January 2017 Garden Thymes – Quarterly
In this edition: 
Carolyn Wade – 2016 MG of Year
2016 Awards, Grant Recap
Meet Rhonda Britton
Garden Thymes now quarterly
DVG Project Update & more!
To view current and recent editions visit our newsletter page or use the browser below to scan or download the current edition.
For older editions, visit our archive page.