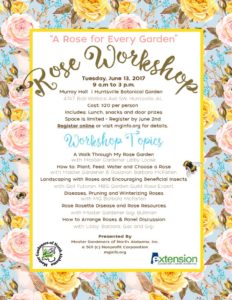 MGNA's Workshop Committee announces..
"A ROSE FOR EVERY GARDEN"
ROSE WORKSHOP
JUNE 13, 2017 from 9 a.m. to 3 p.m.
Huntsville Botanical Garden – Murray Hall
Cost $20 per person (includes snack, beverage & lunch)
Public invited. Space is Limited. Deadline to register is June 2nd.
Click image for downloadable flyer.