Welcome to the Master Gardeners of North Alabama Garden Thymes Newsletter page.  Here you can view, download current and recent issues of the Garden Times.
The newsletter is volunteer-written and produced.  Editor in chief is Acacia Moore.
Please visit our all new Newsletter Archive.   (Editions prior to 2014 will be posted as volunteers and time permits).
Recent Editions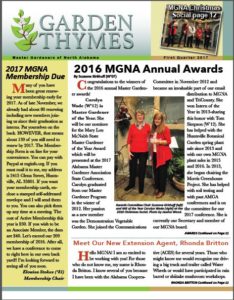 2016 Dec / Jan 2017
2017- Qtr 1
Carolyn Wade 2016 MG of Year
2016 Awards, Grant Recap
Meet Rhonda Britton
Garden Thymes now quarterly
DVG Project Update & more!
Hummingbirds Galore!
2017 Slate of Officers, Directors Announced
Project Updates: Morris ES & DVG
Featured Herb: Hops
Field Trip Recaps & More!
Endeavor ES Project
David Grey MG Profile
Color in the Garden
Ken Creel leaves ACES
Garden Tool Focus
Harvey Cotten Feature
Sue Khoury MG Profile
Boothe – MG of the Year!
DVG's Arbor History
Plant Sales, Photos & More!
MGNA Field Trips
Deen Rice MG Profile
Jessica Wood MG Profile
Facebook & Farmers
Herbs that attract Pollinators
Morris ES Update
Janet Boothe MG Profle
2016 Workshop Schedule
Herbal Teas
Christmas Social Photos