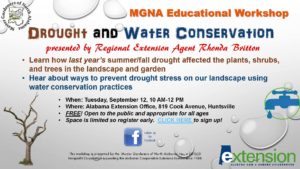 Drought and Water Conservation Workshop
Tuesday, September 12, 9 am – noon
Extension Office
819 Cook Ave., Huntsville
Join Regional Extension Agent, Rhonda Britton, and learn how last year's drought affected plants, trees, and shrubs in our landscape.    The workshop is free and open to the public.  Click here to register.