MGNA Newsletter archive.
Older editions will be added when volunteer's times allow. We do have an archive of our newsletters which are available upon request should a need arise.   Email webmaster@mginfo.org
2016 Dec / Jan 2017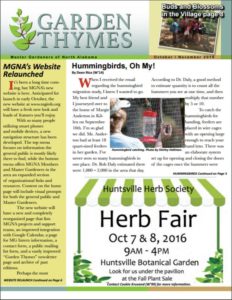 Hummingbirds Galore!
2017 Slate of Officers, Directors Announced
Project Updates: Morris ES & DVG
Featured Herb: Hops
Field Trip Recaps & More!
Endeavor ES Project
David Grey MG Profile
Color in the Garden
Ken Creel leaves ACES
Garden Tool Focus
Harvey Cotten Feature
Sue Khoury MG Profile
Boothe - MG of the Year!
DVG's Arbor History
Plant Sales, Photos & More!
MGNA Field Trips
Deen Rice MG Profile
Jessica Wood MG Profile
Facebook & Farmers
Herbs that attract Pollinators
Morris ES Update
Janet Boothe MG Profle
2016 Workshop Schedule
Herbal Teas
Christmas Social Photos
Young leads MG Habit Project
Acadia Moore MG Profile
2016-2017 Officers, Directors
Pitching in for the McNabbs
Propagation Class Pictures
MGNA Plant Sale Recap
Alice Brigman MG Profile
Andria Cummings Farewell
Garlic: Lily Family Favorite
Advanced MG Pruning Pros
Garden Showcase
Josie Asquith MG Profile
Family Fund Fest a First!
Chelsea Flower Show
Tom Simpson Garden Show
Lathan Farmer's Market Fum
Jean Lee MG Profile
MG's love yard art!
A Look at Lasagna Gardening
Herbs: Rue the Good, the Bad
MGNA Field Trips
Deen Rice MG Profile
Jessica Wood MG Profile
Facebook & Farmers
Herbs that attract Pollinators
Creel, Bish Talk on WTKI
Alice Lawler MG Profile
2015 Awards & Social Recap
Gardener's Recipes for Remedies
Dot Saunder's Remembered
Versatile Ginger
Morris ES Student Journals
Jean Lake MG Profile
Garden Bugs Stop Here
HBG's Harvey Cotten Retires
Defense against Chipmunks
Herbs: Frankincense & Myrrh
Know Your Gardener Publications!
Patsy Conner MG Profile
MG's help 8th Street Residents
Senior Gardening | Greenhouses
Herbs: Versatile Basil
MGs often "All in the Family"
Ann Tippee MG Profile
McNabb shares Do's and Dont's of HSV Mulch Pile
Voelker shares Tomato Tricks
Herbs: Nettles
First MGNA Plant Sale Excels
Suzanne Kirkuff MG Profile
8000+ hours for Chandler
Vegetables: Three Sisters Gardening
My Garden has Worms! & Sage Advice
MGNA now on Facebook!
Carolyn Wade MG Profile
Workshops Rolling
Vegetables: Delicious Texture
MGs Attain Stars Awards
Honorary Members Shine
Dorothy Thomas MG Profile
2013  Awards & Social Recap
Plan your Vegetable Garden!
Summer Bulbs? YES!
Artemisia's  Many Faces